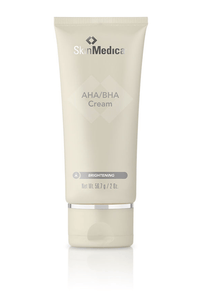 Alpha-Hydroxy Acid (AHA) combined with Beta-Hydroxy Acid (BHA) create a profound exfoliation that removes dead skin cells efficiently as well as assist fresh, young cells to the surface of the skin. Added vitamins and antioxidants nourish and protect the skin from free radical damage.
You will see improvement in texture, skin tone and a smoother appearance. Repeated use may help reduce visible fine lines and wrinkle depth. It may also benefit patients with blackheads and acne.
Benefits:
Improves skin texture, tone, and smoothness
Profoundly exfoliates dead cells from skin's surface, revealing fresh, young cells
Nourishes and protects skin from free-radical damage with vitamins and antioxidants
Key Ingredients
Lactic Acid, Glycolic Acid, Citric Acid and Malic acid naturally derived to provide mild exfoliation to help reduce the appearance of wrinkles and enhance skin texture.
Salicylic Acid is a beta-Hydroxy acid (BHA) that helps to exfoliate skin and clear blocked pores.
Tocopheryl Acetate - a stabilized ester of Vitamin E considered the most important antioxidant and free-radical scavenger.
Panthenol (Pro-Vitamin B5) is a moisturizing agent that binds moisture to surface skin layers.
Sunburn Alert: This product contains an alpha hydroxy acid (AHA) that may increase your skin's sensitivity to sunburn. Use a sunscreen and limit sun exposure while using this product and for a week following.
How To Use:
FOR ALL SKIN TYPES
1- Apply twice daily to face, neck and chest.
2- Mild Temporary stinging is normal. Avoid getting in eyes. If contact occurs, rinse eyes thoroughly with water.