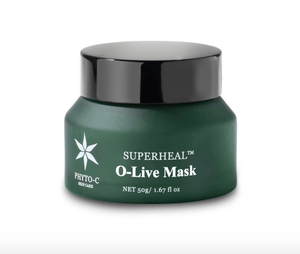 Phyto-C O-Live Mask is a potent exfoliating mask that greatly decongests pores and lifts stubborn impurities, brightening the skin's natural radiance and compexion.
This mask has Olive leaf extract, Vitamin C (l-Ascorbic acid) and Vit E as a potent trio of antioxidants. Alpha and Beta-hydroxy acids exfoliate the skin while ridding the pores of hidden debris. Hyaluronic acid and Aloe vera gel provide a soothing and hydrating effect. Finally, Kojic Acid and Arbutin Glycoside brighten the skin.
Removes stubborn surface impurities
Brightens skin radiance and complexion
Diminish the appearance of fine lines and wrinkles
Suitable for sensitive skin
How to use; Use once to twice per week. Apply generously to cleansed face and neck,  after 20 minutest rinse with warm water.