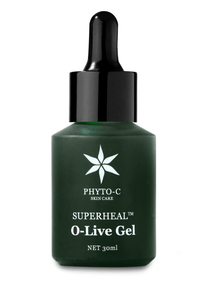 Phyto-C O-Live gel provides extraordinary healing with active anti-oxidant and anti-inflammatory effects. The combination of Vitamin B5 and Hyauronic acid make this a potent skin hydrator. 
The combine anti-oxidant, anti-inflammatory effects with excellent hydration, makes this an ideal treatment for people with rosacea, eczema and psoriasis.
Key Ingredients:
Olive Leaf Extract - (anti-oxidant, anti-inflammation)
VITAMIN B5 - (skin hydrator)
Glycine - (skin hydrator)
Hyaluronic Acid - (Skin hydrator)
How to use: Apply twice daily to the face, neck and shoulders.