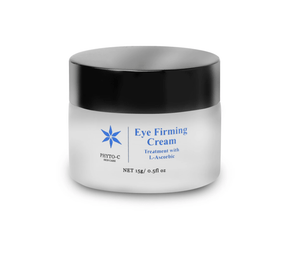 Why not put the same creams around the eyes that we use for the face, neck and hands? The skin around the eyes is much thinner and more responsive to any dose of an active ingredient. 
Phyto-C Eye Firming Cream is the best eye cream for normal to oily skin. Formulated with 7% Vitamin C (L-Ascorbic Acid) in combination with botanical antioxidants and skin brighteners, this extraordinary eye cream reduces the appearance of crow's feet and brightens the dark circles. Vitamin A with Natural hydroxy acids exfoliate and thicken the skin while creating a firmer look. This cream has everything you would want in an all-purpose eye rejuvenating cream.
Key Ingredients:
7.5% Vitamin C (L-Ascorbic Acid)
Hyaluronic Acid
Green Tea Extract
Licorice Extract
Vitamin B5
Natural Hydroxy Acids
Chamomile Oil
Centella Asiatica Extract
Key Benefits:
For normal to oily skin
Stimulates collagen production and prevents the premature signs of aging around the delicate skin of the eyelids.
Powerful antioxidant 
Brightens and lightens dark pigmentation around the eyes
How to Use: Apply twice daily to delicate under eye area