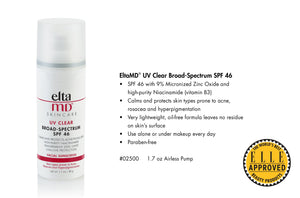 People with acne and rosacea often have a hard time finding a good, broad spectrum sunscreen. EltaMD has created the best
sunscreen
for the face that blocks most of the suns harmful rays while soothing the inflammation that often accompanies other sunblocks. 
The Skin Cancer Foundation recommends this product as an effective broad spectrum
sunscreen.
This means that the sunblock will block the harmful UVA rays (the cause of premature aging) as well as the UVB rays (the cause of sunburns). The best sunblock ingredient is Zinc Oxide. EltaMD has been at the forefront of micronized (clear) zinc technology for years.
Oil-free EltaMD® UV Clear helps calm and protect sensitive skin types prone to discoloration and breakouts associated to acne and rosacea. It contains niacinamide (vitamin B3), hyaluronic acid and lactic acid, ingredients that promote the appearance of healthy-looking skin. Very lightweight and silky, it may be worn with makeup or alone. Choose from tinted and untinted formulas for use every day.
SPF 46
9.0% transparent zinc oxide
Antioxidant protection combats skin-aging free radicals associated with ultraviolet (UV) and infrared radiation (IR).
Calms and protects acne-prone skin
Leaves no residue
UVA/UVB sun protection
Fragrance-free, oil-free, paraben-free, sensitivity-free and noncomedogenic
How to use: Apply to the face and neck 15 minutes before sun exposure. Reapply every two hours or swimming.
Authorized EltaMD® Retailer
Convenient sunscreen for face.
The small size, the pump style container, the non-sticky clear sunscreen, it's the perfect item for using on my face every morning. It's the one sunscreen I have used for several years because of the above comments. Also, the container lasts for months.